USEFUL LINKS

Nutritional Anthropology's Bible:
by
Geoff Bond
---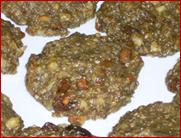 Nicole has been trying out chia flour (see last month). After several experiments, this is her first recipe.
1. In a small bowl soak the raisins in hot water for about 10 minutes. Drain the raisins, add the rum and mix well. Set aside.
2. With a fork mash the banana. Mix in the lemon juice and apricot jam. Add the raisins. Set aside.
---
Thanks to Homer Hartage, head of Nuchia Foods www.nuchiafoods.com for supplying the chia flour. There is enough to produce more recipes yet!